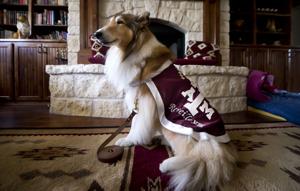 After seven years of service as the Texas A&M University mascot, Reveille VIII will retire at the end of the spring semester.
The university announced Thursday that the 8-year-old collie from Topeka, Kansas, originally nicknamed Kelly, will be cared for at the Stevenson Companion Animal Life-Care Center on campus, where she will continue to interact with the community for the rest of her days. Her medical needs will be met by university veterinarians.
Interim Texas A&M President Mark A. Hussey asked Tom Reber, interim vice president for student affairs, to form a 12-member committee to begin an immediate nationwide search for the new first lady of Aggieland.
Reveille made her official debut as mascot at the 2008 season opening game against Arkansas State at Kyle Field and has been described as mellow, docile and a diva by handlers
The American Kennel Club in 2009 ranked Reveille No. 2 on its list of the top 10 dogs in pop culture between Snoopy at No. 1 and Scooby-Doo at No. 3.